Old is gold – Qualcomm and TSMC figured out how to squeeze a bit extra performance out of the 7 nm node and created the Snapdragon 865++. Or as the company prefers to call it, the Snapdragon 870 (SM8250-AC).
Its CPU reaches the highest clock speed in the mobile world – the prime core now runs at 3.2 GHz, up from 3.1 GHz on the 865+ and 2.94 GHz on the vanilla 865. Those two were surpassed by the Kirin 9000 and its 3.13 GHz prime core, but now Qualcomm has reclaimed the clock speed crown.
The Snapdragon 870 still uses Kryo 585 cores, which are based on ARM's Cortex-A77 with some in-house tweaks. The Snapdragon 888 CPU is based on the newer Cortex-X1 and A78 instead, so while it runs at lower frequencies (2.84 GHz for the X1), there's more to the performance story. We'll have to wait for the first benchmarks to see how all these chips compare, though.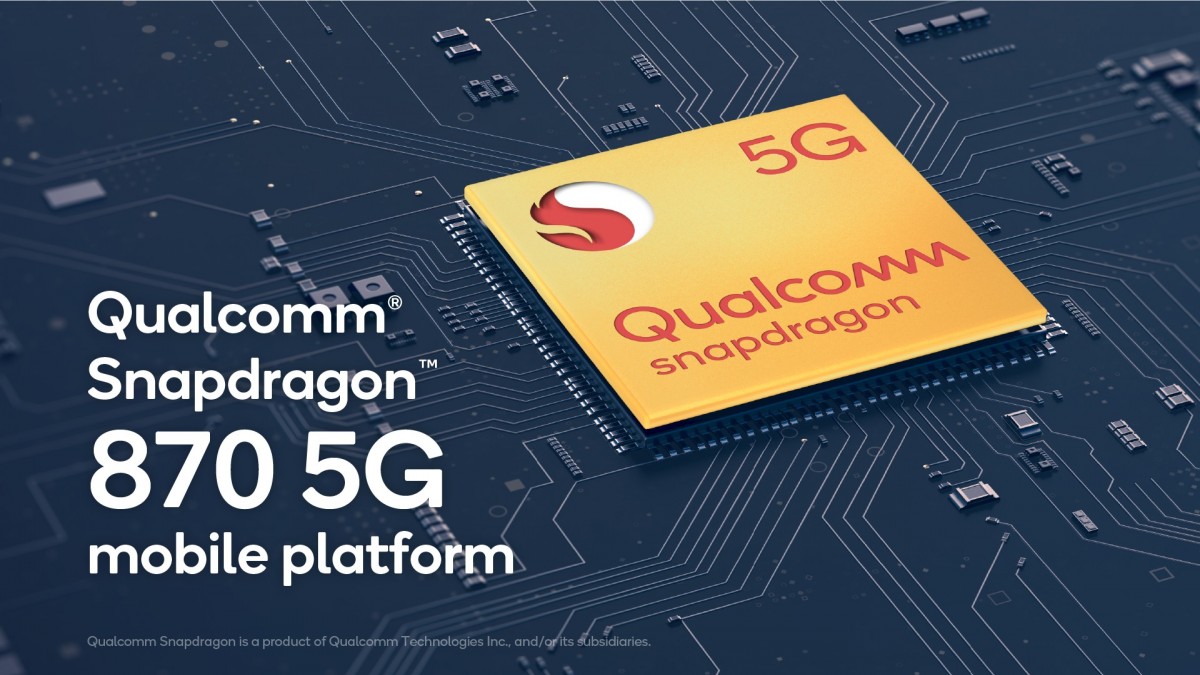 The Adreno 650 GPU makes a comeback, but it's not clear if it received a clock boost of its own and, if not, whether it's running at the 865 frequency (587 MHz) or 865+ (670 MHz). The Hexagon 698 and the Tensor Accelerator deliver the same 15 TOPS as the two 865 chips so that definitely did not get a boost.
The display driver can run 1440p class panels at up to 144Hz (or 4K at 60 Hz) and supports HDR10+ (Rec. 2020 color gamut). The Spectra 480 ISP is unchanged as well, with support for sensors up to 200 MP, 8K video capture at 30 fps (and 4K at 120 fps), high dynamic range videos using the HDR10+ and Dolby Vision standards.
Similarly, the FastConnect 6800 system appears to be the same. It supports Wi-Fi 6 (up to 1.77 Gbps) and Bluetooth 5.2 with aptX Voice and Adaptive. Note that the 865+ used the slightly upgraded FastConnect 69000, which offered Wi-Fi 6E.
There's no onboard 5G modem, instead the chipset will be paired with an external Snapdragon X55 with sub-6 and mmWave support (up to 7.5 Gbps downlink speeds).
The Snapdragon 870 will be used in phones by Motorola, OnePlus, Oppo, Xiaomi and iQOO. Motorola says it will launch its phone "soon", but there are no exact dates for any of the upcoming devices. The companies did give a few hints what kind of phones they are working on, though.
All of them will highlight 5G, of course, but Xiaomi specifically mentioned cameras, while iQOO is making a gaming phone.
| | | | | | |
| --- | --- | --- | --- | --- | --- |
| | Exynos 1080 | Snapdragon 865+ | Snapdragon 870 | Snapdragon 888 | Kirin 9000 |
| Process | Samsung 5 nm EUV | TSMC 7 nm | TSMC 7 nm | Samsung 5 nm EUV | TSMC 5 nm EUV |
| CPU (prime) | 1x Cortex-A78 @ 2.8 GHz | 1x Cortex-A77 @ 3.1 GHz | 1x Cortex-A77 @ 3.2 GHz | 1x Cortex-X1 @ 2.84 GHz | 1x Cortex-A77 @ 3.13 GHz |
| CPU (big) | 3x Cortex-A78 @ 2.6 GHz | 3x Cortex-A77 @ 2.42 GHz | 3x Cortex-A77 | 3x Cortex-A78 @ 2.42 GHz | 3x Cortex-A77 @ 2.54 GHz |
| CPU (little) | 4x Cortex-A55 @ 2.0 GHz | 4x Cortex-A55 @ 1.8 GHz | 4x Cortex-A55 | 4x Cortex-A55 @ 1.8 GHz | 4x Cortex-A55 @ 2.05 GHz |
| GPU | Mali-G78 MP10 | Adreno 650 (670 MHz) | Adreno 650 | Adreno 660 | Mali-G78 MP24 |
| NPU | 5.7 TOPS | 15 TOPS | 15 TOPS | 26 TOPS | ? |
| 5G modem | 3.67 Gbps (mmWave), 5.1 Gbps (sub-6) | 7.5 Gbps (mmWave)sub-6 | 7.5 Gbps (mmWave), sub-6) | 7.5 Gbps (mmWave), sub-6 | 6.5 Gbps (mmWave), 4.6 Gbps (sub-6) |
| Wi-Fi | Wi-Fi 6 | Wi-Fi 6E (6GHz) | Wi-Fi 6 | Wi-Fi 6E (6 GHz) | Wi-Fi 6 |